It's always great when we get excellent publicity like this!
Story by Fernanda Echavarri
March 12, 2013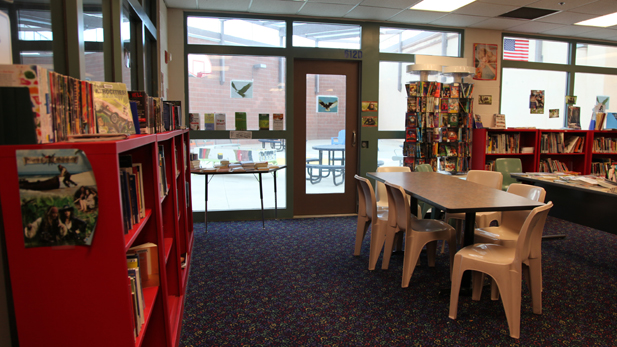 Photo: Fernanda Echavarri
The Pima County Public Library outreach brand inside the Pima County Juvenile Detention Center.
Teenagers at the Pima County Juvenile Detention Center heard from an author whose books are popular in detention centers, about the importance of getting an education in an honest and candid way.
"Some of my books are very raw," said Alan Sitomer. "And these kids are going through stuff that is crazy these days."
About 30 boys and four girls between the ages of 14 and 17 watched Sitomer's presentation Friday inside one of the living quarters of the detention center. He talked to the teens about the importance of making good choices while they are young.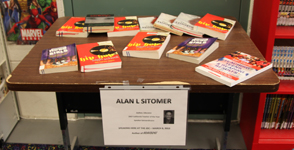 Photo: Fernanda Echavarri
Alan Sitomer's books inside the detention center
A 17-year-old boy who read one of Sitomer's books in detention said having the author visit the detainees was "pretty cool." The boy said hearing about self-determination and second chances inspired him to "stop doing bad stuff" when he gets released.
Many teens detained are more interested in real-life stories than fantasy and science fiction books, said William Bevill with the Pima County Public Library.
Sitomer's books, particularly Homeboyz, are checked out of the center's library constantly, he said.
"Most detention centers have a library, but not many that I know of have a public library that actually spends several thousand dollars a year providing books geared toward the type of teenagers that we have here," Bevill said. "We have kids that come from a very rough lifestyle, whether it's gang related, drugs, alcohol or abuse, we try to find books that will inspire them."
Photo: Fernanda Echavarri
Living quarters at the detention center
Many of those detained are two or three grade levels behind when it comes to reading and the majority do not read books for recreational purposes, he said.
But the library's outreach goes beyond books.
"We provide a friend to these youth, they may not view the detention officers as friends, but they view us as neutral ground," Bevill said.
Unlike other branches of the PIma County Public Library, there are specific restrictions at the detention center.
Pages with advertisement for tobacco and alcohol as well as certain photographs in magazines that may not be appropriate for children are removed, said Bevill, and books with graphic violent scenes or sexual violence are redacted.
But the unusual restriction is for hard-back books because they could be used as weapons, he said.
To bypass this restriction Bevill removes the dust jacket from a book, cuts off the hard covers with scissors, and then wraps the book jacket around the first and last page of the book.
"It only takes us a couple of minutes and we can still give kids the books they want," he said.
Photo: Fernanda Echavarri
Inside the Pima County Juvenile Detention Center